Ken Wood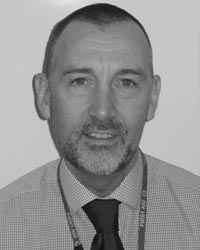 Deputy Headteacher at Normanby Primary School teaching in Y3 this year.
What are your activities and interests?
In my spare time I like cooking, food, wine, films, gym and getting out on my motorbike.
How long have you been on the Governing body?
Since I became Deputy in 1995. OMG!
Why did you become a Governor?
As a senior leader in the school it is essential that I am on the Governing body so that I can deputise for the head when necessary.
What's your favourite TV program or film and why?
Coronation Street addict I'm afraid and British Superbikes or Moto GP is good to watch as I'd love to do a knee down on my bike! Favourite film is embarrassing…'When Harry Met Sally' – I'm a sucker for a Rom Com!
Whats your favourite savoury/sweet food?
Mince & dumplings is a favourite followed by treacle sponge & custard. My mum's is still the best!
Anything else to add?
Just that I think the staff, children, parents and Governors at Normanby Primary School are the best anywhere and I love this school! We should all be very proud to be part of it.
Anyone who wishes to speak to me or is interested in finding out more can contact me by email at kwood@normanby.rac.sch.uk or through the school office.